October Events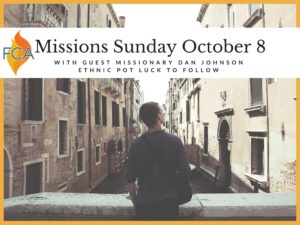 Missions Sunday
October 8
Dan Johnson is our guest missionary speaker for our 2017 Missions Sunday.
He serves as the Chi Alpha Director at UMass Amherst.
Following the service will be an ethnic pot luck!
Main Street Outreach
October 14
Instead of Trunk or Treat, we are excited to announce that we will be serving on Main Street as our fall outreach!
We will be participating with trick or treating down Main Street and will have a team serving at StreetFire.
We are in need of Candy Donations and volunteers to serve alongside us.
Sign ups are in the Welcome Center!